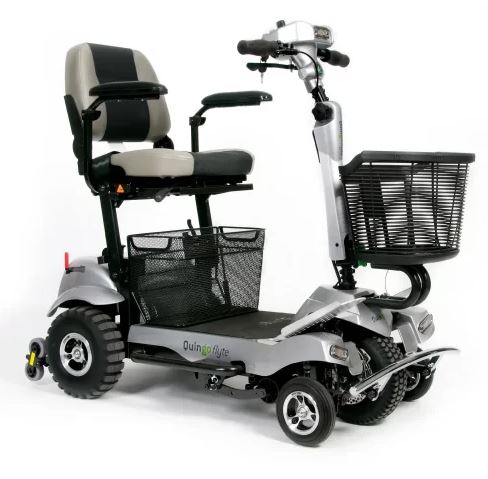 ComfyGo Mobility Quingo Flyte Mobility Scooter with MK2 Docking Station
Heavy Freight: The price includes curbside shipping to most locations within the 48 contiguous states. Please read our Shipping & Returns Policy for full details.
---
The Quingo Flyte MK2 mobility scooter is an innovative solution for individuals seeking independence and convenience in their daily lives. Its unique self-loading docking station, compatible with a wide range of vehicles, allows for effortless loading and unloading within minutes, eliminating the need for additional equipment or assistance.

Equipped with patented 5-wheel stability technology, the Quingo Flyte MK2 provides unparalleled safety and balance, while its agile maneuverability ensures ease of use in tight spaces and busy environments. The scooter's adjustable seat, ergonomic design, and smooth suspension system deliver exceptional comfort for users of all heights and weights.

Additionally, the Quingo Flyte MK2 boasts a robust battery life, ensuring hours of uninterrupted use, and its compact design ensures hassle-free storage when not in use. Experience a new level of freedom, independence, and confidence with the Quingo Flyte MK2 – the ultimate self-loading mobility scooter that transforms the way you travel.
Quintell™ Posture Control System
Discover the unparalleled agility of Quingo's patented 5-wheel system, a groundbreaking innovation that offers superior manoeuvrability compared to traditional 4-wheel scooters. With the ability to effortlessly navigate tight spaces, crowded environments, and uneven terrain, Quingo scooters provide a newfound sense of freedom and independence in your daily adventures. Boasting excellent stability and control, these scooters are designed to prioritize user safety without compromising on performance. Experience a truly transformative mobility solution and embrace life's journeys with confidence, thanks to the outstanding capabilities of a Quingo scooter.
Unmatched Safety and Ease
Experience the exceptional performance of Quingo scooters when tackling curbs at 45-degree angles, a testament to their innovative design. The wheels lift and drive over curbs smoothly and safely, even in challenging situations like narrow pavements. Quingo's agile maneuverability enables tight turns, allowing for seamless navigation through any environment. Additionally, the patented Curb Master technology ensures that Quingo scooters won't get beached when descending curbs or navigating obstacles. Rely on Quingo for a truly superior level of safety, convenience, and confidence in all your mobility adventures.
Specifications:
Battery and Charger
The Quingo Flyte comes equipped with four standard 22AH batteries, which can be upgraded by adding an additional two 22AH batteries.
Charging time ranges from 6 to 10 hours.
The Quingo Flyte battery can be charged using a regular home outlet.
Designed for user convenience, the batteries can function simultaneously and be charged while installed in the scooter.
The charging specifications for each battery are AC 100 – 240 Volts, 50 Hertz, at 1.5 – 5 Amperes.
The Quingo Flyte includes a standard 24V 5A charger in the box.
Range
Four 24V 22AH batteries provide an impressive driving range of up to 23 miles.
With the upgrade of two additional 24V 22AH batteries, totaling six 22AH batteries, the range increases to up to 34 miles.
However, it is important to note that driving habits, temperature, weather, loading weight, road conditions, and other factors may affect the overall range.
Motor
The lightweight Quingo Flyte mobility scooter features a quiet DC 24 Volt, 250W 2-pole motor.
Boasting powerful torque, this mobility scooter can effortlessly climb inclines of up to 12 degrees.
Brakes
Enjoy a safe and smooth ride with our electric mobility scooter featuring intelligent electromagnetic brakes built into the motor.
Intelligent Electromagnetic Brakes offer several benefits for mobility scooters, including improved safety, smoother braking, and reduced wear and tear on the scooter's components. Unlike traditional braking systems, electromagnetic brakes are highly responsive and can be controlled with precision, allowing for a safer and more comfortable ride. They also require less maintenance and have a longer lifespan compared to other braking systems.
Additionally, electromagnetic brakes can help prevent the mobility scooter from rolling away when parked on a slope or incline, providing greater peace of mind for the user.
The Quingo Flyte mobility scooter also comes with an emergency hand brake for added safety in emergency situations, making it a safer choice compared to other scooters on the market.
Travel Friendly
The Quingo Flyte is a lightweight, foldable travel mobility scooter, perfect for on-the-go convenience.
MK2 Self-Loading Docking Station
MK2 Docking Station - Designed Exclusively for Quingo Flyte
Securely holds the Flyte mobility scooter during transit.
Compatible with most small hatchback cars and larger vehicles.
Free assessment and fitting provided.
Installation and removal require no modifications to the car.
Breaks down into component parts for easier lifting.
No tools required for installation or removal.
Controller
Quingo Flyte with MK2 Docking Station Features Rhino 2 DS 90 Controller
Building on the legendary performance of the Rhino, Dynamic Controls introduces the most powerful and advanced scooter controller yet with the Rhino2. The Rhino2 controllers offer superior drive control, optimized ride comfort, and a high level of configuration, making it suitable for a wide variety of mobility scooters.
Designed to closely match the performance of the original Rhino, the Rhino2 Classic range takes advantage of the enhanced features of the Rhino2, while giving OEMs more options to match the optimal controller to a scooter. The Rhino2 Classic range delivers a powerful boost current and a peak current time of a minimum of 60 seconds.
Seating
Quingo Flyte with Automated Docking Station includes the following seating features:
A two-tone, full fold seat with a forward-reverse seat slide mechanism for enhanced comfort and convenience.
A quick-release seat belt for easy and secure use.
Speed
 The QUINGO FLYTE has seven speed selections and a limited top speed of 4 mph. The seven speed selections will deliver 15%, 30%, 45%, 60%, 75%, 90% or 100% of the maximum speed with speed one being 15% of maximum speed and speed five being 100% of maximum speed.
Seating Area Width
The Quingo Flyte mobility scooter offers an adjustable seating option: the seat can be adjusted from 16.9" to 23 inches in width. The seat width is measured at the broadest point between the bars supporting the armrests.
Frame
Experience maximum durability and strength with the Quingo Flyte series of electric mobility scooters.
This high-quality material offers superior toughness and corrosion resistance, ensuring that your mobility scooter can withstand the rigors of daily use and provide long-lasting performance.
Weight of the Scooter
The Quingo Flyte is a foldable mobility scooter weighing 257 lbs., including the four 22AH batteries.
Loading Weight
The Quingo Flyte mobility scooter supports a maximum weight capacity of 350 lbs.
Wiring/Electronics
The Quingo Flyte wiring, connectors, processor, motors, and controller are weather resistant and are able to resist light rain and winds. It is important to understand that none of the electronics are weather or waterproof and should avoid heavy rains or submersion in water.
Tires
The Quingo Flyte mobility scooter features pneumatic tires, with 12" rear tires and front center tires, as well as 6-inch solid front side tires.
FDA Approved
The Quingo Flyte FDA approved, and CE certified.
Warranty
The QUINGO FLYTE comes with a standard 3-year frame, 1-year motor, 1-year battery, and 1-year electronic parts warranty.
An optional ComfyGO Care warranty can be purchased to provide up to 2 years of coverage for batteries and electronics. An optional ComfyGO Care+ warranty can be purchased to provide up to 3 years of coverage for batteries and electronics. ComfyGO Care and ComfyGO Care+ can be purchased within 90 days of your delivery date.
What is in the box?

The Quingo Flyte mobility scooter comes with four batteries, a tool set, a battery charger, and a user manual. Additionally, if applicable, the package includes the MK2 automated self-docking station.
Maintenance
The Quingo Flyte mobility scooter does not require extensive maintenance. Monthly cleaning, inspecting, and tightening of bolts and nuts should keep your scooter in good working order. Proper charging of the batteries will prolong battery life.
We strongly recommend getting an annual service check for your scooter to ensure extended life and improved efficiency.
Quintell™ Technologies
Quintell™ Technologies is a series of patents specializing in innovative, 5-wheel mobility scooters designed to provide enhanced stability, comfort, and maneuverability for users with limited mobility.
Quintell™ 5-wheel Stabilizing System
A patented 5-wheel stabilizing system is a design feature in mobility scooters that incorporates an additional central front wheel, resulting in enhanced stability, improved maneuverability, and increased safety for users with limited mobility.
Quintell™ Active 3-Wheel Steering
Patented Active 3-wheel steering for Quingo scooters is an innovative feature that enables enhanced maneuverability and control by allowing the central front wheel and two rear wheels to actively steer the scooter, resulting in a smaller turning radius, improved agility in tight spaces, and overall better handling.
Quintell™ Self-Centering Steering
Patented self-centering steering for Quingo scooters is a feature that automatically returns the steering to its neutral, straight-ahead position when the user releases the controls, making it easier to maintain a straight path and ensuring a more stable and controlled driving experience.
Quintell™ Kerbmaster™ (Curb Master) Anti-Tipping System
The patented Kerbmaster (curb master) Anti-Tipping System for Quingo scooters is a safety feature designed to prevent the scooter from tipping over when navigating curbs, uneven terrain, or slopes, by utilizing a set of small wheels mounted on the rear of the scooter that engage with the ground, providing additional support and stability when needed.
Quintell™ Powered Anti Ground System
The patented Powered Anti Ground System is a safety feature in Quingo mobility scooters that uses an adjustable powered mechanism to lift the scooter's front wheels, helping users navigate inclines, ramps, or uneven surfaces more easily and safely, while preventing the scooter from getting stuck or causing damage due to ground contact.
Quintell™ Posture Control System
A patented posture control system is a feature implemented in seating or mobility devices, such as wheelchairs or scooters, designed to provide optimal support and positioning for the user, enhancing comfort, maintaining proper spinal alignment, and reducing the risk of pressure sores or other health complications related to poor posture.
Quintell™ Adaptive Floating System
The patented Adaptive Floating System (AFS) is a suspension technology employed in Quingo's 5-wheel mobility scooters, designed to provide a comfortable and smooth ride by automatically adjusting the suspension to accommodate different terrains, individual user weight, and riding preferences.
Quintell™ Energy Absorbing SmartBumper
The patented Energy Absorbing SmartBumper for Quingo scooters is a safety feature designed to minimize the impact force and potential damage to the scooter and its user in the event of a collision, by effectively absorbing and distributing energy from the impact throughout the bumper structure.
Why choose BuyMobilityChairs.com? Why should we be your mobility chair retailer of choice? Actually, we can think of plenty of reasons!
Founded to solve a real problem
When owner and founder, Maria, realized the challenges her massage clients were struggling with in finding the right mobility chair, and the lack of service provided by the retailer after the sale, she realized she could do something to help. BuyMobilityChairs.com was born to do just that.
Trusted names
At BuyMobilityChairs.com, we offer a selection of the highest-quality mobility chairs on the market. You'll find names you know and trust, including:
Pride
FreeRiderUSA
Enhance Mobility
Heartway USA
EV Rider
Even more reasons
In addition to a selection of mobility chairs and products that is second to none and our commitment to making a difference before and after the sale, we believe there are many other reasons to choose us.
We offer free shipping on most products.
You pay no sales tax in most states.
We offer a 110% price match guarantee up to six months after your purchase.
We stand behind every product we sell.
Ready to regain the freedom and quality of life you deserve? We invite you to get in touch with us today.
Order Confirmation
As soon as you place your order you will receive an order confirmation e-mail. Please verify item type and color/dimensions. If you wish to make any changes, you would need to do so prior to your item shipping. 
The Order Confirmation means that we have received your order in our system.
As soon as we receive your order we automatically verify that the item is in stock and available for immediate shipment.
If your item is on backorder or unavailable we will void the card

 

authorization and promptly reach out to you via phone or e-mail.
LEAD TIMES FOR 2022
During 2022, many items will be available via backorder only. Many popular brands are only building to order as they do not have enough raw materials for mass production.
Please inquire for stock/delivery times on any brand. If you need to purchase a product soon, please do so ASAP as lead times are expected to increase in 2022. It is highly regrettable but out of anyone's control and we wish to be upfront about current market conditions so that you may plan accordingly.
THIS MEANS WHEREVER YOU INQUIRE ONLINE, THE LEAD TIME WILL NOT CHANGE AS ALMOST EVERY RETAILER SHIPS FACTORY DIRECT AT PRESENT.
Shipping Your Order
If your item is in stock:
Your order ship within five business days from the order confirmation date.
We will send you tracking information within 24 hours of your order leaving the warehouse to the e-mail address you provided when checking out.
Most heavy items are shipped via freight--delivery time is approximately 5-7 business days.
Please feel free to inquire if you do not receive the tracking information, since the email may sometimes end up in junk or other folders. 
Shipping lead times may be longer than usual during holiday/rush periods.

 

We will immediately inform you if this is the case and obtain your permission to proceed.
Please note some custom orders may take longer than 5 business days to ship, as we need to ensure they are crated safely to avoid transit damage. Additionally, some items are custom-built and will require 1-2 weeks lead time. Contact us for any details.
We will always do our very best to ensure the promptest delivery. Guaranteed shipment dates and express service may be available, please let us know if you need rush service.
IN ORDER TO REMAIN IN COMPLIANCE WITH PAYPAL AND OTHER CREDIT CARD PORTAL POLICIES: DELIVERY ADDRESS CHANGES ARE NOT PERMITTED ONCE AN ITEM HAS ALREADY SHIPPED. ANY RETURNS THIS MAY CAUSE WILL BE TREATED AS A REGULAR RETURN PER OUR RETURN POLICY. PLEASE READ OUR FULL POLICY BELOW FOR INFORMATION ON QUALIFYING RETURNS.
Damages

Please read the instructions below very carefully as they pertain to refunds and replacements
A PHOTO AND/OR VIDEO IS ALWAYS REQUIRED FOR PROOF OF DEFECT. IT IS A CUSTOMER'S RESPONSIBILITY TO SEND PROOF OF DEFECT, IF ANY. MOST OFTENTIMES A USER ERROR/OMISSION MAY CAUSE THE MALFUNCTION, HENCE THE REASON FOR PROOF IS REQUESTED BY ALL MANUFACTURERS.
Inspect your purchase to ensure that it is in good condition upon arrival and that the number of boxes on the delivery bill match the number of boxes you received. If your item(s)/box arrives damaged or short, it is very important you follow these exact instructions:
Note the damage

 

on the delivery bill (also known as a bill of lading)
Note any shortage of items/boxes
Take photographs of all sides of the box as well
REFUSE DELIVERY WITHOUT EXCEPTION
Send the photos and videos to support@buymobilitychairs.com so we can process an insurance claim/replacement.
Examples of damage to a box are: rips, holes, crush, dings, etc. 
If the box/package looks OK but you feel the item within may be damaged:
Note "possible concealed damaged"
In the event the damage is concealed (meaning the box looks good but the item within is damaged or defective)--DO NOT THROW THE BOX AWAY and take pictures/videos of the box as well as the product. This also applies if the product was delivered via Fedex/UPS at the front door: do not throw the box away and take pictures/videos of the box as well as the product.
Disposing of the box at any point or not following the above procedures annuls our ability to process refunds and replacements.
Insurance/manufacturers require photographs and videos of

 

both

 

the box (all sides) and the product.
Please send videos or photos as requested to show proof of damage or defect. 
Failure to show proof of any defect voids any rights of refund.
Please allow a reasonable amount of time for resolution (usually 2-3 business days)
It is very important that any damage or shortages are:
Reported within

 

five calendar days

 

of receipt of the merchandise, due to carrier insurance regulations and rules.
We reserve the right to first attempt to repair the unit as new with a part or professional assistance.
In order to receive an immediate refund or replacement for concealed damage:
You agree to hold onto the damaged item and not dispose of it until further instructions are provided by the manufacturer or by us.
You agree to not dispose of the original box/carton the item came in.
UNDER NO CIRCUMSTANCE WILL AN ITEM BE REFUNDED OR REPLACED IF THE ITEM OR ITS BOX/PACKAGING HAVE BEEN DISCARDED. A PHOTO AND/OR VIDEO IS ALWAYS REQUIRED FOR PROOF OF DEFECT. IT IS A CUSTOMER'S RESPONSIBILITY TO SEND PROOF OF DEFECT, IF ANY. MOST OFTENTIMES A USER ERROR/OMISSION MAY CAUSE THE MALFUNCTION, HENCE THE REASON FOR PROOF IS REQUESTED BY ALL MANUFACTURERS.
If you have any questions, do not hesitate to contact us immediately at 407-900-2837 and we will be glad to promptly assist you or answer any concerns.
Cancellations & Refunds
We want you to be completely satisfied with your order. Most purchases may be canceled at no cost prior to shipment. If there are any third party or carrier errors, you agree to let us help you resolve these in a timely manner.
Should you decide to cancel the order:
You (the buyer) will be responsible for all shipping charges, including return shipping and any manufacturer restocking fees.
The refund will be processed once the item has been received at the warehouse.
Please note not all manufacturers accept returns--it is best to verify with us prior to placing your order.
No returns permitted on any custom-built, or made to order items
Please see Return Policy for brand-specific return guidelines
For those items that are non-returnable but arrive damaged, we will promptly provide a replacement at absolutely no cost to you pursuant to our Shipping & Returns Policy.
Because we cannot sell used items, all returned items must be in new and unused condition, including original packaging (please do not assemble or modify the product in any way). 
Shipping Insurance
BuyMobilityChairs provides complimentary shipping insurance with all orders; we want your item to be fully insured and protected while in transit. Shipping insurance allows a merchant to replace or refund an order that suffers damage due to shipping, at no cost to the buyer.
By accepting a damaged box and signing for it in "good condition", however, a customer acknowledge they wish to receive the order as is and cancel the right to any refund or replacement. Any box visibly damaged during shipping may indicate a damaged item within. This means a customer should always notate the damage to a box or item on the delivery bill, otherwise insurance cannot be filed and refunds/replacements cannot be made. We know this is pretty straight-forward, but we are required to disclose it! :) 
We strive for your 100% satisfaction. In the event we process an insurance claim for damage, please bear in mind that we will always provide a refund or replacement without you having to wait for the claim process to be over. In doing so, however, you agree to hold onto the damaged item until the claim process is over. Refusal to warehouse the damaged item means shipping insurance cannot be executed and voids the ability to provide refunds/replacements. This is common practice with all U.S. carriers (UPS, Fedex, etc) when processing insurance claims for refunds or replacements and does not in any way make you responsible for the delivery damage. 
RETURN POLICY
All TIMEPAYMENT sales are FINAL. If you finance, the items are NON returnable.
Mototec/Uberscoot Returns:
Mototec USA will not accept unauthorized returns. If you need to return an item, please contact us prior to doing so. Used items are non returnable. Used products cannot be shipped back, instead we fix under warranty. We need pictures/video to see the issue, then we will ship the customer free parts to fix. If conditions for the product return as stated below are met, we will issue you a return authorization number (RA #) that must be marked on your return package. With the exception of returns caused by our error, shipping costs for returned items will be buyer's responsibility as well as the original shipping charge and a 10% restocking fee. No return will be accepted without invoice number or date of sale. To receive a refund or credit, returned items must be in original packaging, unused, in original condition and in transit back to Mototec within 10 days of receiving the product. Items will be inspected prior to issuance of any refund or credit.
Mototec/Uberscoot Damaged / Defective Items:
Mototec USA will ship out free replacement parts if any shipping damage occurs or products arrive with missing/defective parts. Customers are responsible for the shipping charges of parts if they are not shipping within the 48 contiguous states. Customers are responsible for replacing these parts. Should the item be majorly damaged beyond warranty repair, Big Toys USA will offer a return for a full refund. If damage is not reported to us within 10 days of receiving the item, the shipping companies will not honor the damage claim and the customer will be responsible for the shipping charges. Customer is responsible for providig videos/photos of the damage.
All other brands:
If you are not satisfied with a product that you have purchased, you may return it within 7 of delivery for a refund of the purchase price, minus the shipping, handling and restocking fees that apply. The customer is responsible for all shipping fees, including those to the customer and returning to the warehouse. If the product was sent with "free shipping" the original shipping costs will also be deducted from the refund.
The product must be returned in new condition, in original boxes, and with all paperwork, parts and accessories in order to satisfy our return policy. Customer is responsible for all packaging of products and packaging materials necessary.
Customer will be charged a 15% -  20% re-stocking fee for their returned products. Any damages and missing accessories will be be deducted based on their retail value.
You MUST obtain a Return Manufacturer's Authorization Number (RMA #). Do NOT return units or parts without an RMA #. Returned units or parts without a proper RMA number will be refused or returned at the shipper's expense
Non-returnable items include:
Bath and Safety Products
Personal or Hygiene Products
Batteries, Chargers or Electrical components
Used equipment
Special/custom orders
Stair lifts and elevators
Mattresses
Replacement Parts
Any financed items
Pride Lift Chair Cancellation Policy:
The following policy applies to all Special Order and Builder chairs which would include any chair with Heat and Massage added.
No fee if cancelled within 24 hours
$50 fee if cancelled withing 48 hours
25% fee after 48 hours
No returns on day of, or after, shipping
Refund Processing Time:
All credits will be processed within 2 days after receipt and inspection of the returned product. Provided all the return policy conditions above are met. (Processing may be slightly extended during the holiday season).
Delivery Method
All heavy freight orders are delivered "curbside", which is industry standard for all manufacturers. The shipping company will call you ahead of time to schedule a delivery appointment, and deliver curbside via freight truck. All smaller orders are delivered via regular Fedex/UPS.
If you choose another type of delivery (such as Front Door Delivery), please retain the email confirming any alternate delivery method for your records. For your protection and peace of mind, any guarantee is only provided in writing and never verbally.
It is important to note that some deliveries may incur additional costs due to remote / hard to access / limited access locations. Although rare, we will promptly let you know if this is the case so that you may choose whether or not to proceed with the shipment.
What is Front Door/Garage Delivery?
When this service is requested on a shipment going to a business, the carrier will take the freight into the storefront for delivery. On a residential delivery, the carrier will take the shipment onto the property, or into the garage of the residence. They will not necessarily deliver inside the front door, but rather at the front door. Please note this is the case with any shipment from any company and is a carrier policy, not our own.
When a driver delivers to a specific room in a house or business (for example a basement or 2nd floor), the requested service is known as White Glove service. Since this is very time consuming, only specific shipping companies offer white glove service. If you require white glove service, please let us know.
Not all white glove quotes will be the same, since not all home deliveries are the same. Number of stairs, corridors, etc may require a different quote and we will let you know if this is the case.
Storage Fees & Delays
It is understood that by placing an order you are ready to accept immediate delivery of the merchandise. Should you need the merchandise to arrive on a specific date, this date must be relayed when you place your order.
If your order ships and you choose to delay delivery, the shipping company unfortunately reserves the right by law to return your merchandise to the manufacturer, or charge you storage fees. Generally, shipping companies will not allow your item to be stored on premises--for insurances reasons--for longer than 3-5 business days.
If they return your merchandise to the manufacturer, you will be responsible for shipping both ways, as well as all restocking fees. Please note these are substantial for larger freight items so do not delay shipments for your own sake.
If the merchandise is non-returnable and gets returned to the manufacturer (who thus refuses it), you will be responsible for the full cost of the item, including any third party and shipping fees.
If the shipping company chooses to retain the item on premises and charge you shipping fees, you agree to pay such fees in full prior to the delivery of the merchandise.
In essence, please do not delay delivery of the merchandise, as shipping companies have very little flexibility due to legal and insurance restraints. You will be responsible for all costs associated with self-imposed delays.
WE TRY TO SHIP AS QUICKLY AS POSSIBLE. PLEASE INFORM US OF SPECIFIC DELIVERY DATE REQUIREMENTS AS SOON AS YOU PLACE YOUR ORDER.
Is Free Shipping Offered Everywhere in the US?
Much as we strive to offer absolutely free shipping during our promotional periods, there are some locations where we cannot offer free shipping. These are usually states such as Hawaii and Alaska, but not limited to these, as well as locations with restricted access (ie islands, heavy metro areas, hotels), rural areas and neighborhoods, or locations which a carrier may deem remote or difficult to get to. Coast-to-coast shipping may not be covered under our free shipping policy, as we strive to obtain the fastest route to prevent item breakage and deliver exceptional customer satisfaction. 
If you feel you are in such a location, please feel free to contact us to make sure. We will still provide a credit for shipping in these instances. If you place an order and we find that you are in such an area, we will immediately contact you with all available options.
In the event free shipping is not available for a certain item, this will be clearly listed on the product page.
Thanks so much for choosing BuyMobilityChairs!
Buy Mobility Chairs guarantees the lowest price for an entire 6 months after purchase on all items!
For New Orders:

If you haven't purchased from us yet, you have two options to get the best price guarantee:
1. If you see the item on our website, order it today and we will guarantee it is the best price anywhere online for an entire six months after purchase. If not, we'll refund you the difference!
2. If you can't find the item you are looking for, or you want options or other custom additions not listed, call or email us at support@buymobilitychairs.com and we will put together the lowest price quote you will find anywhere online, guaranteed.  

Just email us at support@buymobilitychairs.com with your Purchase Order Number after you purchase. 
Our 100% Price Guarantees terms and conditions:
The price guarantee is valid for up to an entire 6 months after purchase!

Please purchase the item from us before requesting your Price Match

Clearance or Special Promos, such as buy one get one free aren't eligible

The item be in stock on the competitor's website

The price match applies to online-only retailer  ie. Costco isn't eligible

Auctions or any kind of liquidator sites such as Overstock or eBay aren't eligible

The competitor must be an authorized dealer and follow dealer MAP Policies

The guarantee includes the total price of both item and shipping charges

QuadPay or TimePayment transactions are not eligible
Feel comfortable knowing that you are paying the best price for all purchases on Buy Mobility Chairs - buy your tanning equipment today and leave the rest to us!
Contact us today at support@buymobilitychairs.com.
---
Share this Product
---
We also recommend